For the past fifteen years, MultiMedia Journalist Jason Spiess has hosted hundreds of professional musicians and songwriters on his radio programs.  In addition to Spiess' one-of-a-kind in-depth interviews, the musicians also performed their original songs live on the air.  Many of these songs are used as bumper music for The Crude Life programming to continue the promotion and support of singer songwriter's business and their artistic passion.
Early on, our relationship with artists began with in studio, live performances and music montages.  During the Bakken Boom, The Crude Life Media Network would air Bakken Music Montages with live performances from singer-songerwriters.  Here are a few examples of Industry Art Partnerships:
Blind Joe "It Ain't Country Enough"
Brooks West "Back Around"
Josh Harty "Minna Miller"
Pat Thiel "Breathe"
Tom Peckskamp "Broadway"
Woody Pines "Casey Jones"
Blind Joe
Blind Joe is a totally blind singer/songwriter born and raised in and around the Fargo North Dakota area. Blind Joe received national notoriety when he appeared on NBC's The Voice and was selected to be a part of Team Blake.  Although Blind Joe didn't win the singing competition, it spring boarded his music career to the next level.
He has opened for some great bands and musicians including David Allen Coe, Craig Morgan, the Kentucky headhunters, Brett Michaels (Poison), Joe Diffie, John Hiatt, Buddy Guy, James Otto and many more. The music of Blind Joe always comes straight from the heart and soul!
To listen, buy or download Blind Joe's Music, click here
---
Tom Peckskamp
To listen, buy or download Tom Peckskamp's music, click here
---
Brooks West
The first guitar Brooks West picked up belonged to his uncle, a wheat farmer in North Dakota. Since then, this Fargo North Dakota native has gone on to write well over one hundred songs, blending elements of contemporary folk, country, and pop.
The son of a mortician and a school teacher, Brooks has a unique outlook on life that shapes his eclectic repertoire. His songs cover subjects ranging from death and destruction to love and hope and even the occasional ballad to office supplies. Over the past ten years, Brooks has performed in coffee shops, bars, colleges, festivals, and benefits across a good portion of the country. Some career highlights have included playing the national anthem for a sell-out crowd of more than 4,500 minor league baseball fans, and having opening slots for such nationally known acts as Grammy Award winner, Doc Watson, The Duhks, Dan Bern, Jeffrey Gaines, The Roches, KellyJoe Phelps,The Hackensaw Boys, Jeff Lang, Ingrid Michaelson, Shawn Mullins and more.
After moving between Pennsylvania, Tennessee and Fargo, Brooks has returned to his Nashville, where he continues to play and write.
To listen, buy or download Brooks West's music, click here
Moody River Band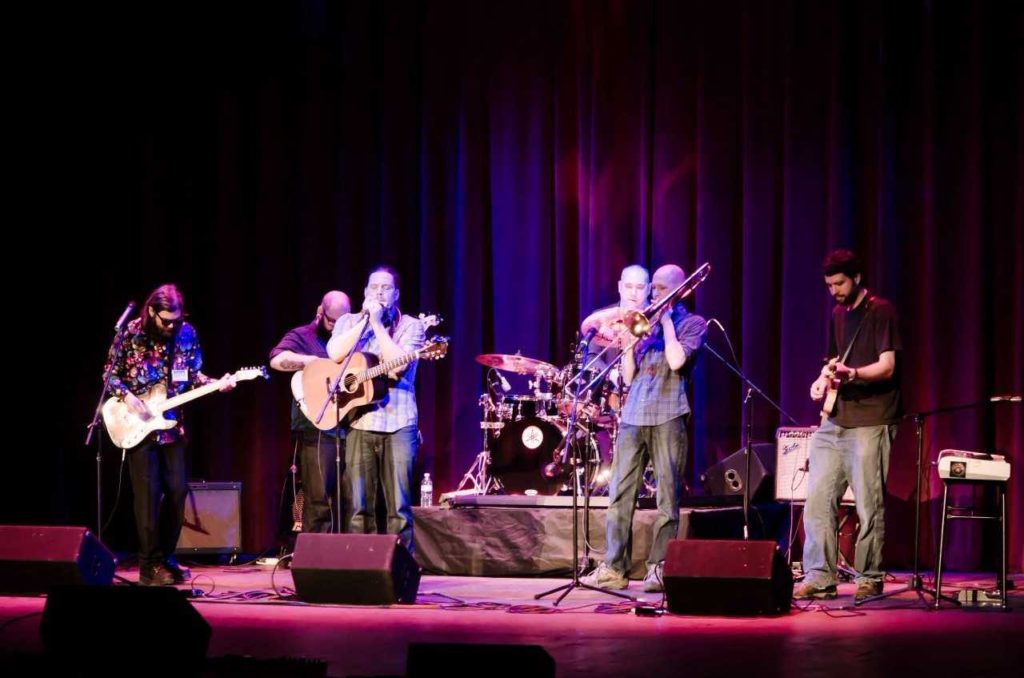 A four piece 'Charley Young Band' becomes 'the Moody River Band' in March of 2009 after the addition of Tom Peckscamp as a second songwriter and third guitar player. While still 'the Moody River Band', the addition of horn players Steve and Zach fully completes the sonic range of the group. Moody River is and amalgam of several popular local bands including Bad Mojo, WBPN, and Leaving the City.
To listen or download Moody River Band's music, click here
---
Woody Pines
If you're wondering where the music of Nashville troubadour WOODY PINES comes from, look to the streets. It was on the streets as a professional busker that Woody first cut his teeth, drawing liberally from the lost back alley anthems and scratchy old 78s of American roots music, whether country blues, jugband, hokum, or hillbilly. Heavy rollicking street performances are the key to some of today's best roots bands, like Old Crow Medicine Show (Woody and OCMS' Gill Landry used to tour the country in their own jugband), and they're the key to Woody's intensely catchy rhythms, jumpy lyrics, and wildly delirious sense of fun. Woody traveled all over the streets of this country, road testing his songs, drawing from the catchiest elements of the music he loved and adding in hopped-up vintage electrification to get that old country dancehall sound down right.
When Woody Pines sings "when the train rolls by, I get a faceful of rain," this isn't some hipster dilettante twisting a faux-handlebar mustache and singing about old-timey railroads, this is a dedicated student of Woody Guthrie who used to hop freight trains to get from town to town. This is serious roots music that's as much a way of life as an aesthetic choice. This music isn't for dabblers; you gotta feel it in your bones. Let Woody Pines help.
To listen, buy or download Woody Pines music, click here
---
Here is The Crude Life's YouTube page Music PlayList Section