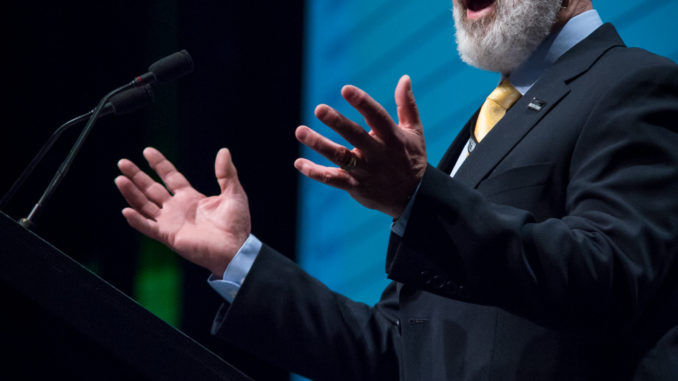 The Western Dakota Energy Association recently had their annual meeting in Dickinson, ND.  Here are a few newsworthy notes from their annual meeting.
Helms: This is a Five-Generation Play
North Dakota's chief oil industry regulator expects the state's production will grow in the next few years, and will continue for decades to come.
Lynn Helms, director of the ND Department of Mineral Resources, provided attendees at this week's WDEA annual meeting a county-by-county update and forecast of future oil production. Calling it a "five-generation play," Helms said he expects "our grandchildren's grandchildren" will be affected by North Dakota's oil industry.
Helms told the audience that crude inventories are falling, so he expects oil prices will climb to $55 to $60 per barrel early next year. He also believes additional formations will be explored in the years to come. Helms said he expects the US Geological Survey will conduct a full inventory again in the year 2020, looking into what he says are another 17 potential unconventional source rock formations.
Mergers and acquisitions are one reason for upticks in the county-by-county breakdown of oil and gas production in North Dakota. Helms told WDEA members that a few smaller producers bought portions of major oil company assets, and are adding to activity in Divide, Golden Valley, Billings and Stark counties.
"It's encouraging that six rigs have moved out of the core area and are looking at new stuff," Helms said.
Kessel Takes Over as WDEA President
Dickinson City Administrator Shawn Kessel was elected to a two-year term as WDEA President at the association's annual meeting.
Kessel takes the reins from Dunn County Commissioner Daryl Dukart, who has been president the past two years. Leadership of WDEA rotates every two years among its city, county and school members. A school district member of the WDEA Executive Committee will succeed Kessel in 2019. That will likely be Killdeer Superintendent Gary Wilz, who was elected vice-president this week.
Kessel is a Dickinson native. He assumed his role as city administrator in 2009, after holding a similar position in Wahpeton. Kessel received his undergraduate degree from Moorhead State University, and holds a master's degree in Business Administration from the University of Mary.
WDEA Presents Senator Wardner Outstanding Public Service Award
The Western Dakota Energy Association created a new award this year to recognize outstanding contributions to public policies that advance the association's interests, and its first recipient is Senate Majority Leader Rich Wardner of Dickinson.
Wardner has led the fight for western North Dakota communities to be treated fairly in budgeting by the North Dakota Legislature.
The award reads, "Presented to Senator Rich Wardner in recognition of his tireless efforts to promote greater public awareness of energy industry impacts in western North Dakota, and his relentless advocacy for sound public policy decisions to protect and improve the quality of life of WDEA members.
WDEA Elects New Board Members
Members of the Western Dakota Energy Association elected two new members to serve on the association's Executive Committee at this week's annual meeting.
Leslie Bieber, Superintendent of the Alexander School District, fills a board vacancy created by the resignation of Jason Kersten earlier this year. Prior to joining the Alexander district in 2013, she taught Spanish at Williston State College and worked as an Elementary School Principal in Grenora.
Bowbells City Councilman Shannon Holter was also elected to a board position, replacing Ken Callahan from Williston, who announced his resignation at the annual meeting. Holter works full-time as a District Representative for Murex Petroleum Corporation.
Legislators Hear Dickinson Hub City Case
Members of the ND Legislature's interim Energy Development and Transmission Committee toured more than half a dozen city and school facilities in Dickinson, all of which were constructed as a result of growth in the oil industry.
Legislators were kept on the move during a two-day hearing October 30-31, making stops at Dickinson's new public works building, its wastewater plant, a new middle school, the Theodore Roosevelt Regional Airport, as well as the city's new public safety center which houses police and fire operations. Legislators also were shown new transportation infrastructure and growth areas within the city. They also saw numerous oil industry operations, many of which are outside the city limits so do not count in the statistics used to determine the amount of Hub City funding that the city receives.
City leaders made the case that Dickinson needs continued Hub City funding to pay back debt incurred as a result of the construction, and address ongoing needs related to continuing growth in the community.
Notes provided by the WDEA