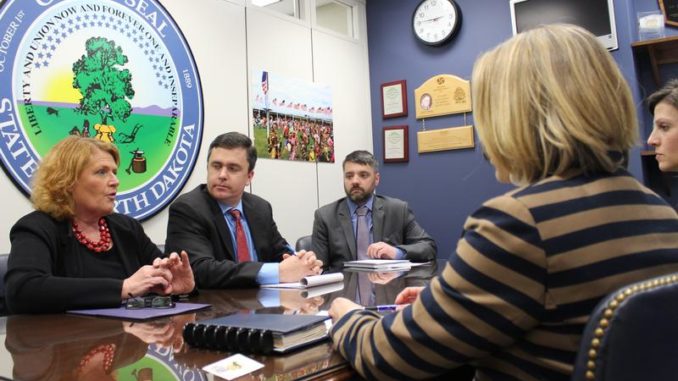 The North Dakota delegation announced that three federal grants totaling over $1.5 million have been awarded to New England, Harvey, and New Town to maintain, rebuild, and upgrade their water infrastructure.
"Growing up in small town in rural North Dakota showed me first-hand that when everyone works together, we can get things done," said Heitkamp. "Making sure we continue this tradition means we must continue to invest in rural towns all across North Dakota. That's why federal funding like these grants are critical to maintaining needed water infrastructure for Harvey, New England, and New Town so those who live there will be able to maintain their quality of life and pass the town on to future generations."
These federal grants are distributed as follows:
· New England: $1,436,900 in federal funding to complete the last phase of upgrading the water and waste water infrastructure including a new raised water tower and water main upgrades to provide better service to the over 600 users.
· Harvey: $90,000 in a federal grant as well as $110,000 federal loan to assist in finishing the replacement of water meters.
· New Town: $30,000 in federal funding to put together an engineering report to address the city's lagoon issues with waste water.
These federal funds are made available through the United States Department of Agriculture Rural Development. Rural Development plays a key role in making sure infrastructure is maintained and enhanced in rural communities like Harvey. Recently, Heitkamp announced federal funding for the city of Elgin to make upgrades to their water infrastructure.